Desander
Product No.:2021127155633
Desander
Desander is a kind of Slurry Separation System. It is a necessary equipment of foundation construction,
used for pile foundation projects adopting slurry hole/tunnel wall supporting, rotary drilling rig,
circular drilling technology; Diaphragm wall project and slurry purification recycling of slurry pipe-jacking construction,
with the features of reducing construction cost,reduce environmental pollution and increasing construction efficiency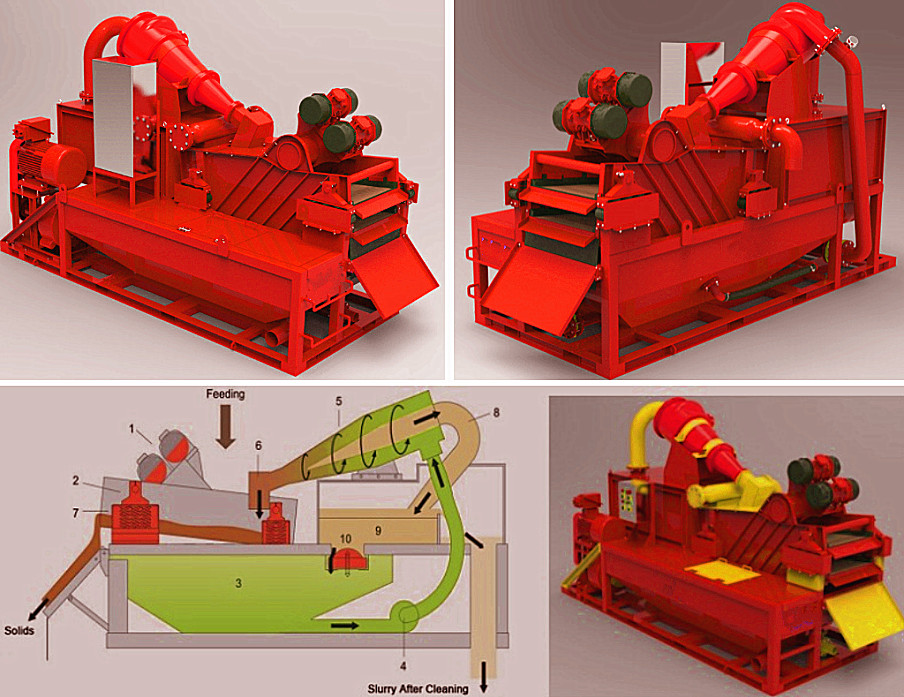 1. vibratory motor 2. dewatering shale 3. storage tanks 4. cyclone feeder pump 5. cyclone units 6. spigot 7. coarse screen 8. cyclone overflow
9. holding tank 10. automatic level control


Separation Process:
1. Slurry with soil particles from feeding pump goes through the coarse screen (7) and into the storage tank (3), with solids more than 2mm separated.
2. The fluid in the storage tank(3) is pumped into the cyclones (5), with solids more than 0.06mm discharged on the dewatering screen (2),
and the cleaned fluid is discharged via the cyclone overflow(8) and into the holding tank (9).
3. The automatic level control (10) is to keep the water level in the tank(3) to prevent the feeder pump (4) from running without load or low load


SPECIFICATION


Model

Treatment Capacity(m3/h)

Sieving capacity(t/h)

Max. moisture content

Mud max. SG
(g/cm³)

Power
(kW)

Cut point d50
(μm)

Inlet Size

Outlet Size

Weight
(t)

Dimension
LxWxH (mm)

S20-30

20

5-10

<30%

<1.4

9

30

DN65

DN100

2

2055x1730x2240

S50-30

50

5-15

12.5

2.2

S100-60

100

20-50

24

60

DN100

DN150

3

2862x1676x2433

S150-60

150

32

3

S200-60

200

25-80

48

DN150

DN250

5.5

4522x2192x2903

S200-60

3161x2576x2903

S260-60

260

58

5.8

4522x2192x2903

S260-60

3161x2576x2903

S400-60

400

75-240

100

DN300

2xDN250

20.2

10705x4144x6536

S500-60

500

120

20.8
Contact Us
Tel: +86 10 57133886

Fax: +86 10 82893390

E-mail: [email protected]

Add: No.3-1-1904, Zhujiangmoer International Building, Beiqinglu road, Changping distict, Beijing, PRC