Casing Oscillator- Short type
Short Casing Oscillator

Casing Oscillator is one of most import importment in bored pile industry, when you doing a drill shaft work, you need to buried
The shaft work very deep or very large diameter, your rotary drilling rig torque not big enough, the casing oscillator is a good choise.

The hydraulic casing oscillators have been designed in accordance with the latest technical know-how.

Extremely sturdy construction guarantees worth-while use on site. By means of exact statical calculations
in conjunction with higher quality material, an optimum conformity of loads, weight and material strenght is archived.

The internal welding stresses, not easily determined for the statical calculation, and which would affect the construction considerably,
are eliminated by means of stress relieving prior to machining.

The short casing oscillator are perfectely suite for mounting on rotary drillin rigs, the design and construction of the casing oscillator is based on the
experience of many years of cooperation with companies specializing in pile foundations. In view of the high costs which would result
from a breakdown of the equipment on site, great importance has knowingly been set on exeptionally sturdy construction.


Specifications: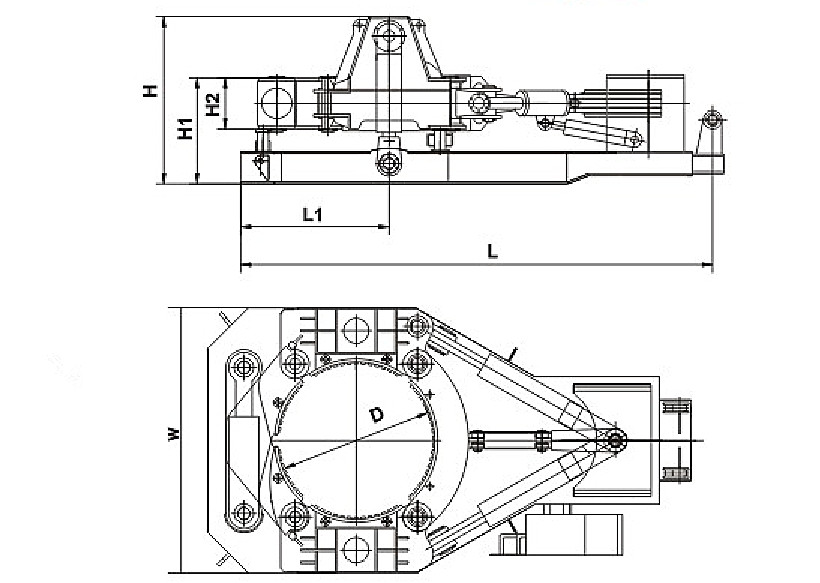 | | | | | |
| --- | --- | --- | --- | --- |
| | 1000D | 1300D | 1500D | 2000D |
| Max Casing diam. D(mm) | 1000 | 1300 | 1500 | 2000 |
| Width of machine W(mm) | 1850 | 2250 | 2500 | 3200 |
| Length of machine L(mm) | 2700 | 3870 | 4070 | 4800 |
| Min. Spacing L1(mm) | 950 | 1200 | 1450 | 1700 |
| Height of machine H(mm) | 1250 | 1600 | 1600 | 1600 |
| Height from ground to top of cradle guide H1(mm) | 850 | 1020 | 1020 | 1020 |
| Height of cradle guide H2(mm) | 400 | 400 | 500 | 500 |
| Operating pressure(Mpa) | 27 | 27 | 27 | 27 |
| Torque(KN.M) | 650 | 1750 | 2000 | 2520 |
| Stroke(mm) | 350 | 450 | 450 | 450 |
| Lifting force(KN) | 800 | 1800 | 1800 | 2000 |
| Clamping force(KN) | 530 | 1650 | 2100 | 2510 |
| Rotation angle | 22° | 22° | 22° | 22° |
| Travel of casing (mm) | 185 | 245 | 290 | 340 |
| Weight(kg) | 7500 | 11200 | 15000 | 17600 |
Contact Us
Tel: +86 10 57133886

Fax: +86 10 82893390

E-mail: [email protected]

Add: No.3-1-1904, Zhujiangmoer International Building, Beiqinglu road, Changping distict, Beijing, PRC